When planning our time in LA I thought it would be fun to be in a live studio audience at a show. I looked online and found tickets to Last Man Standing which airs on ABC on Friday nights and stars Tim Allen! Tickets to shows in LA are free and all you have to do is sign up online as long as there's space in the audience!
We couldn't have our phone or camera so this is a photo from Google. This was our view during the show however.
I had no idea what being in a studio audience would be like and in the end it was a great experience!
When we arrived at the studio (CBS even though it's an ABC show lol) the parking security man was really rude to everyone showing up for the show which made me wonder if we should even stay for the filming. When we got parked and to our designated meeting place we got lined up in order of our arrival to the studio. About 150 people showed up and after waiting around for about 45 minutes we were taken to the set and got in our seats. There were pages seating us but nobody told us what time the taping would start, how long it would take and we weren't allowed to get up and go to the bathroom. Again I thought, uh it was a bad idea to come to this. At 6 pm a comedian stood up and got the show on the road.
The comedian and a DJ entertained us and told us what was going to happen for the evening. After that about 40 people came out to get the cameras and lights fired up. The directors were getting ready to roll and the whole thing was pretty exciting. The actors came out one by one and we cheered for them and everybody was super pumped!
We learned that this show is filmed once a week. The cast went through their entire episode with only a few retakes due to mistakes. It was amazing how well everyone did their lines and didn't make hardly any mistakes. After each take the DJ turned up the music and the audience cheered wildly for the actors. The purpose of the live audience was to laugh at the funny scenes. There were microphones in front of each of our seat sections to record our laughter.
About 1.5 hours into filming we were served one slice of pizza and water! That was nice because we got there at 4 pm and it was dinner time.
Around 9 pm the show was done! It took about 3 hours to film an episode. Would you like to know how much Tim Allen made for his talents that night? $235,000 per episode! The whole experience was really fun and it was so neat to see Tim Allen in real life! He talked to the audience and told us a few jokes. You can tell he really wanted to entertain us while we were there.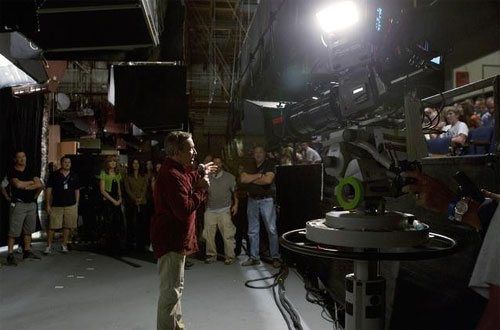 Tim Allen telling some jokes! Source
I'm also amazed at how pretty female actresses are in real life. Their hair, makeup and clothes are perfect.
All in all we showed up at 4pm and got to leave at about 9pm. It was a fun experience once the show got started and I'm glad we went.
There were two ladies whose job was to put props in the correct places on set. I think that looks like a super fun job. The make up crew also looked like it would be a fun job. After each take they would bombard the actors with more makeup. Talk about getting up close and personal with famous people.
If I ever come back to LA I'd love to get tickets to The Ellen Show or to The Price is Right!