Florida is such a great state because of all the pretty coastline! It's a wonderful state for RV'ers because campgrounds are plentiful and the beautiful beach is never far away.
The most unique thing Venice beach has is tons of shark teeth!!
We read online that you could easily find shark teeth on the beach so, we went out and tried it. We found maybe 30 teeth per hour of looking and it was really fun to find them! The teeth you find in Venice (which is the shark teeth capitol woohoo!) are fossils of shark teeth which makes them over 10,000 years old!!
After our first day of shark tooth hunting it was pretty hard for us to do much else. I snorkeled a little but we mostly went to the beach everyday and hunted for shark teeth. The beaches were again beautiful with pretty water! One day while beach combing a few dolphins swam by! We also saw stingrays almost everyday swimming up and down the beach, doing flips and entertaining the tourist.
One day when we arrived on the beach there was a huge volleyball tournament going on. Probably 50+ games all going on at once, mostly 2 on 2, and they were Good!
When we weren't at the beach we enjoyed going to a farmers market, the yummy produce is finally back!
And I made beignets for breakfast. Did I mention that we fell in love with beignets while we were in New Orleans? We also bought a small deep fryer in New Orleans.
While in Venice there was a blood moon. Did you go outside to see it? During the day the sun did something strange too, check out the ring around the sun!
Lastly, the RV park we stayed in was full of Park Models which are pretty much mobile homes that snowbirds live in for the winter. If you don't know, a huge population of people that live in Canada, the Northeast and the super cold northern states migrate south to Florida to escape the cold each winter. Most of these folks are retired. They come when the weather at home gets cold and go back when it starts warming up. They live in RVs or park models. It looks like such a happy way of life! People really take care of their little homes with nice landscaping and decorations. Here's what a typical park model looks like.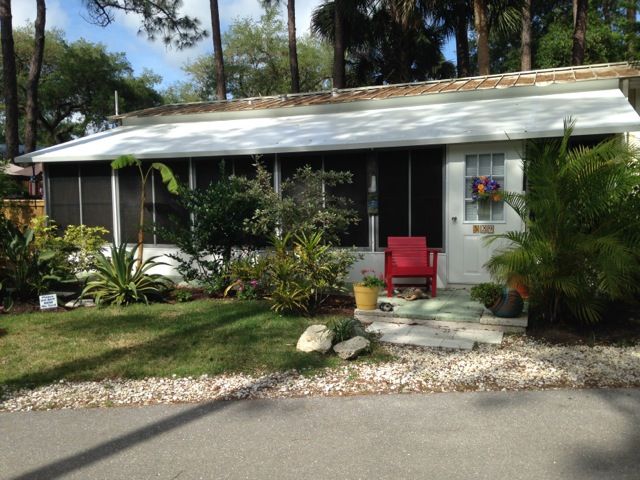 Even if you can't come live in Florida when the weather gets too cold it's nice to know that there is a place in the USA that is warm pretty much all the time in case you need a vacation. Come back in a few days to read about our trip to Miami!