This weekend we continued to work on the floor. We are about 1/3 of the way done replacing the floor!
We also filled up our fresh water tank for the first time to test it out. It didn't leak and all seems to be good with it so we are going to keep it and continue putting new pieces of flooring down.
While we were working on the Airstream this weekend we had a huge rainstorm which ended up working out really well for us to find all the places that leak in our Airstream!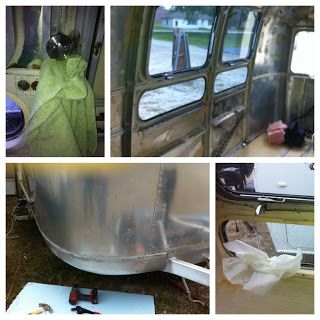 We went around with vulkem and patched all of the leak spots. Mainly we had leaks around our tail lights, around the lower small windows, the door lock, and one random hole in the shell so not too bad!
We had rain all weekend so, after we filled in the problem areas we haven't seen anymore leaks.
Lastly, we got to put the banana wrap back on the front right side. The left is still open because we need to be able to bolt our next piece of flooring in from that side.
This week's work felt great because we are no longer deconstructing we are making her water-tight and beautiful!